Pressurized filtration at pilot scale
AGI Pilot Plant Nutsche Filter 
 is an indispensable system for kilo lab and pilot plant pressurized solid-liquid separation applications. The standard features offer all the functionality needed for successful filtration and a great user experience.
The jacketed vessel, large filtration surface area and manual stirring mechanism offer exceptional filtration performance. The wide impeller can be raised or lowered to smoothen or break the product cake surface. Systems of up to 30 L are supplied with a movable stand, protection shield and pressure safety features.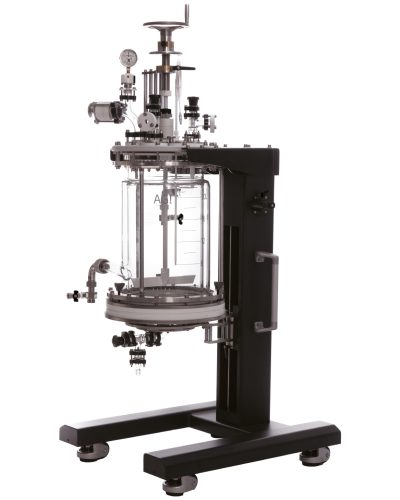 Why should you choose AGI Pilot Plant Nutsche Filter PLUS ?
AGI Pilot Plant Nutsche Filter
is designed to accommodate the various steps involved in a filtration process. Most types of filtration processes can be performed in this system with a simplified work flow.

Pressurised filtration up to 1.5 bar G

Jacketed and non-jacketed versions

Accelerated cake drying as premium option

Full jacket design for maximized thermal transfer

Wide process temperature range -60 ℃ to +200 ℃

Easy access to filter using a lever mechanism

Integrated pressure relief and shield for safety

Support structure with castors for mobility

Easy Cleaning and maintenance
Vessel capacity
10 L, 20 L and 30 L
Vessel type
Single wall, double wall (full jacket)
Filtration area
317.3 cm² (10 L), 514.7 cm² (20 L), 711.6 cm² (30 L)
Operating pressure
Full vacuum to +1.5 barG (+0.15 MPa).
EMEA models: +1.1 barG (+0.11 MPa) for 30 L
Operating jacket pressure
Up to +0.5 bar G (+0.05 MPa), in Double wall vessel
Operating temperature
-60 °C to +200 °C
ΔT – Thermal shock resistance
110 °C (double wall)

Customization possibilities
AGI Pilot Plant Nutsche Filter 
can be customized and we are happy to discuss the design of custom features with you in order to meet your specific process requirements. Examples of custom work we've undertaken include :
Filter depth modification to accommodate final cake volume
Special filter handling carts for ease of filter handling
Motorised agitation
AGI can also manufacture large capacity Nutsche Filters for large cake volumes.
Maximum vessel sizes

Non-Jacketed vessel: 300 L
Jacketed vessel: 100 L