Explore the features of this high performance system that provides efficient, pressurized filtration at pilot scale
Sealed for up to 1.5 bar pressure usage
The vessel, filter, lid, and components are all designed to withstand pressures of up to 1.5 barG*. The sitter seal is specifically designed for this pressure range, and prevents pressure leakage during stirring operation.
* for 30 L models with CE the max pressure is 1.1 barG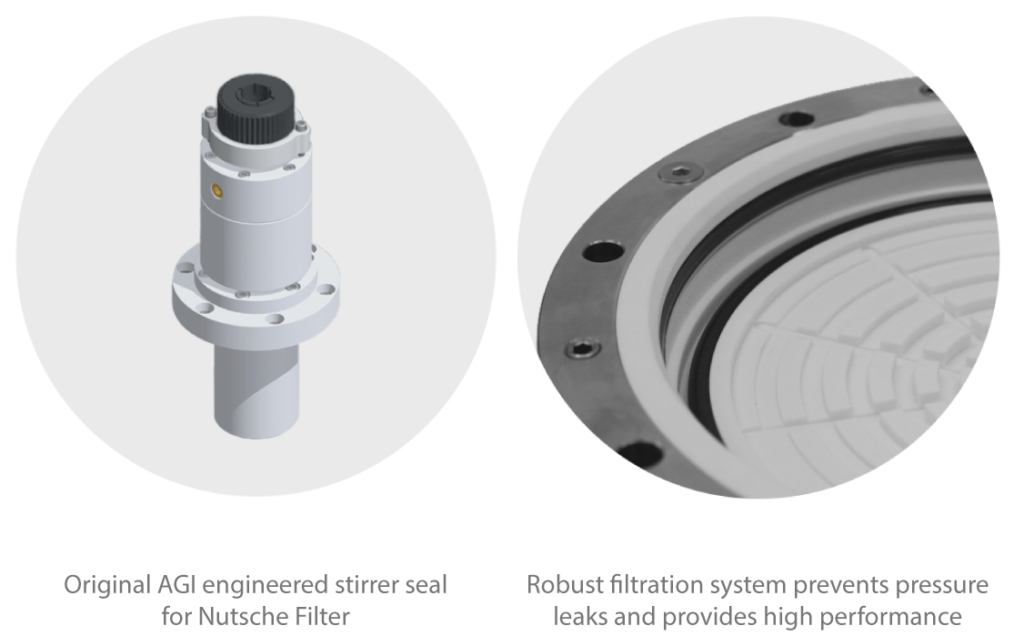 The support structure design of AGI Pilot Plant Nutsche Filter 
 makes it simple and easy to handle your valuable product, compared to other systems. The filter can be quickly uncoupled, lowered, and moved sideways for filtrate collection. All of this can be done in a smooth, safe, and controlled manner. The lowering of the filter is assisted by a rotating lever mechanism in the support structure.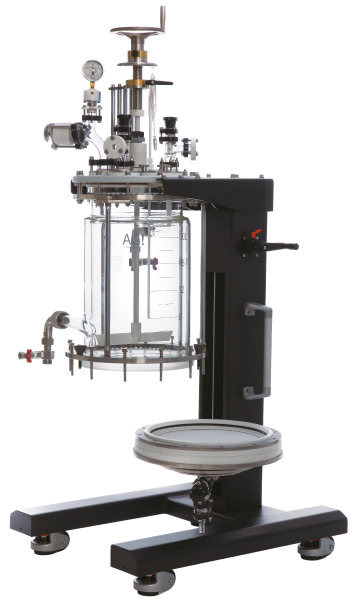 Multipurpose stirrer blade
The filtration stirrer blade helps to mix the slurry during the mixing phase, and smoothens the product cake (in a clockwise rotation) so that the washing medium passes through it uniformly, ensuring thorough washing. After washing, the filtration stirrer blade helps to break apart (in a counter-clockwise rotation) the product cake for easy drying.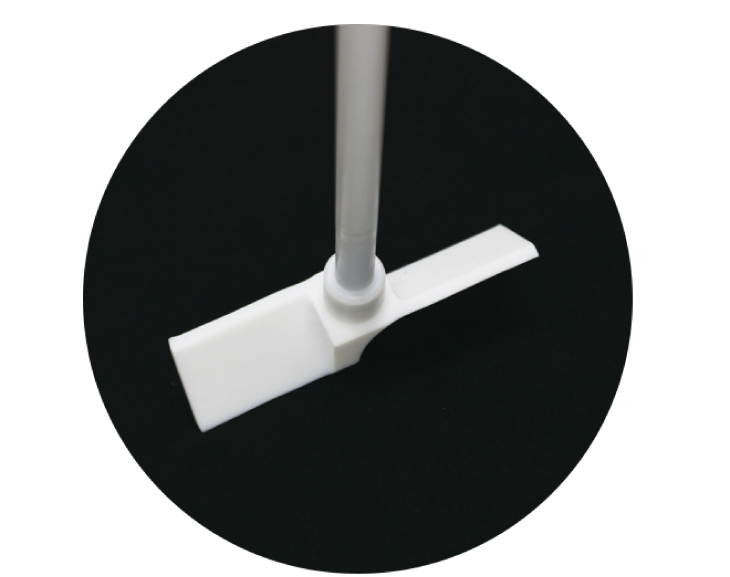 Our filtration part is meticulously designed to prevent any leak or bypass of the filtrate. The sintered filter (pore size of about 100 μm) supports the filter membrane. Double PTFE gaskets that sandwich the filter cloth lock everything into place. This setup, along with an O-ring, prevents leaks (including solids, liquids, and gases), and bypasses when the filter is closed. Filter membranes/cloths of up to 3 mm thickness can be used.
Note: Since the pore size of filter membranes are variable, they are not included in our standard package.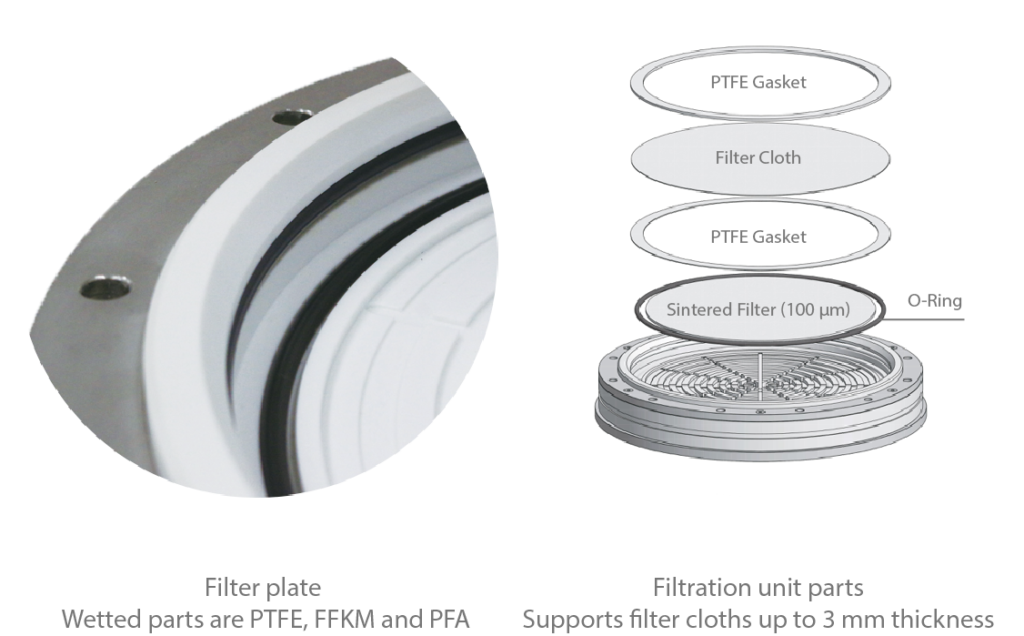 Accessories for performance and safety
The PFA-coated SS lid has a variety of accessories that improve the functionality and safety of AGI Pilot Plant Nutsche Filter 
.
Accessories include :
Agitation handle for mixing, smoothing or breaking apart the product cake
N2 port for pressure
Rupture disk (+1.8 bar G/+0.18 MPa cut off) with pressure gauge for safety
PT 100 with holder for temperature monitoring
Spray ball for cleaning the vessel
Blind flange connection for use with any additional accessory of your choosing.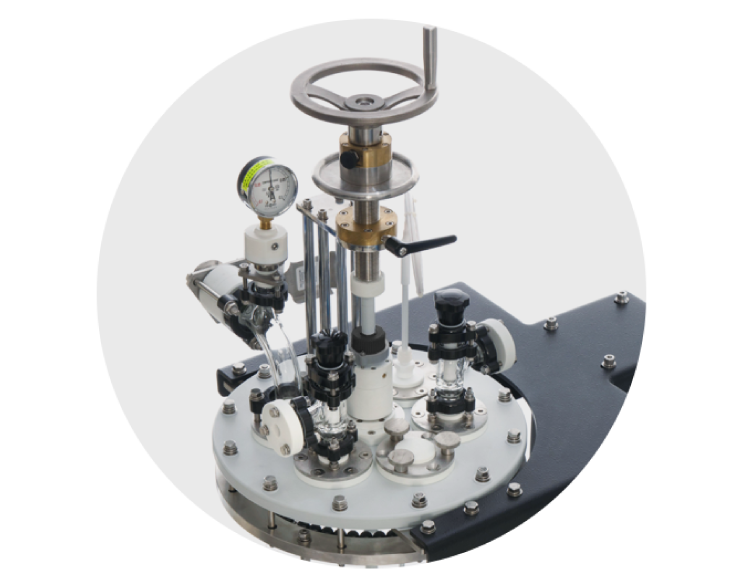 For medium-sized nutsche filters, thorough cleaning after each use is essential to prevent chemical contamination between batches. It is particularly important to clean the flange and filtration parts.
The flange-grooves where the O-rings sit in standard vessels is prone to collect chemical residues after each process. Our Nutsche Filter vessel has a flat flange which makes it very easy to clean.
In the filtration part, the gaskets, O-ring and sintered filter are removable. The PTFE filter base has sharp and defined groves to allow easy access for cleaning. The flush valve is removable and has a run-off design where everything drains completely. These design features improve the way you work and clean the reactor, batch after batch.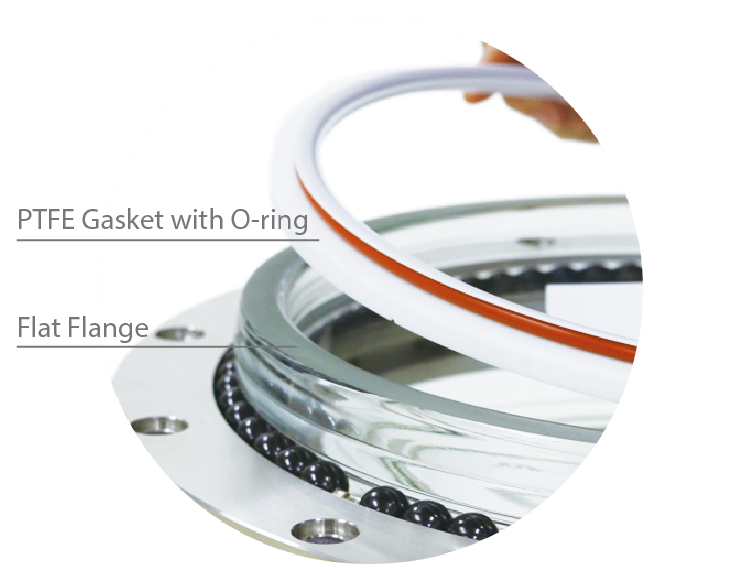 Glass Body (Double Wall, Single Wall)
DN 200 (10 L) / DN 250 (20 L) / DN 300 (30 L)

Valve

Bend Adapter

Hose Connector

Filtration Part, PTFE

PTFE Stirrer Shaft, Shaft OD: 16 mm

Original Flange Set

Support Structure

Protective Shield

Cover Plate, SUS304, PFA coating

N-1 Agitating Handle
N-2 Blind Flange Connection
N-3 Spray Ball
N-4 PT100 Sensor with Holder
N-5 Rupture Disk with Pressure Gage
N-6 N2 Port
* Ports on Cover Plate: 6 Ports (10 L, 20 L, 30 L)
** All O-rings are consumables parts