Vacuubrand offers laboratory users equipment that meets the highest quality standards. "Intelligent pumps" make work easier in laboratories, permitting chemists and technicians to concentrate on their real work.
They engineer and produce almost all pump and controller components in their own facility in Wertheim, Germany. This enables Vacuubrand to quickly respond to the wide variety of demands from different customers and also ensures a consistent approach to the quality of their design and manufacturing processes.
Relying on state-of-the-art technology and machine tools, they produce rotary vane and diaphragm pumps, chemistry pumping units, chemistry vacuum systems, vacuum gauges and controllers, valves and components of the innovative VACUU·LAN® local vacuum network.
Chemistry Diaphragm Pumps And Pumping Systems(Oil-Free Vacuum For Corrosive Gases And Vapours)
Chemistry diaphragm pumps from VACUUBRAND feature uncompromising chemistry designs. Due to use of fluoropolymers, they are very resistant to chemical vapors from inlet to exhaust, and are very tolerant to condensates.
These chemistry diaphragm pumps are typically use for evacuating chemically aggressive gases and vapors from equipment such as rotary evaporators, vacuum drying cabinets and centrifugal concentrators.
Vacuubrand's two-, three- and four-stage pumps feature a gas ballast valve that helps minimize impact on ultimate vacuum when working with condensable vapors. Pumping chambers are hermetically separated from the drive system ensuring long lifetimes of mechanical parts. Most importantly, Vacuubrand diaphragm pumps are oil-free, reducing service demands, eliminating water waste from water-jet aspirators and the contaminated waste oil disposal of rotary vane pumps.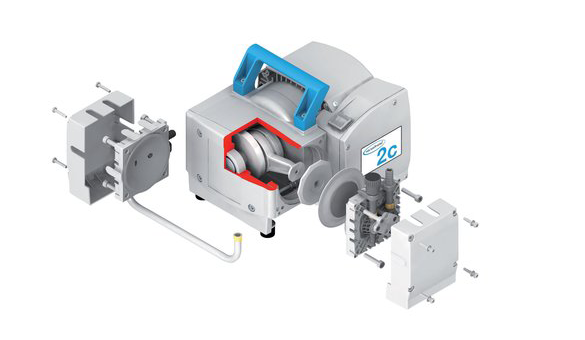 Rotary Vane Pumps And Chemistry Hybrid Pumps​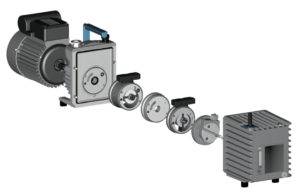 VACUUBRAND rotary vane pumps are high-performance, yet compact, and can be equipped with an extensive line of Vacuubrand accessories. They are suitable for process vacuum of up to 10-3 mbar and have an innovative lubrication system with a built-in oil pump and have a large oil volume. This extends oil change and service intervals and protects the pump at start-up. The effective gas ballast feature, with its high flow gas ballast, provides high vapour pumping capability for both water and solvents.
Vacuubrand's rotary vane volume flow rate is specified at atmospheric pressure, as is customary with PNEUROP®. For process efficiency, however, the high volume flow rate of Vacuubrand pumps under process conditions, as well as a consistently high volume flow rate over a wide pressure range, is crucial for a variety of applications.
The diverse vacuum applications in laboratory and industrial use often require controlled vacuum or pump management for :
The newly developed vacuum controller VACUU·SELECT® makes vacuum control even easier.
VACUU·SELECT®, an application-based controller with a touch screen display and a user-friendly interface for all of your lab-scale vacuum processes. Suitable for all VACUUBRAND pumps and pumping units in the laboratory, but also for applications with existing vacuum sources and -networks.
A solution that always works!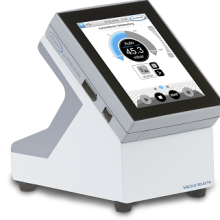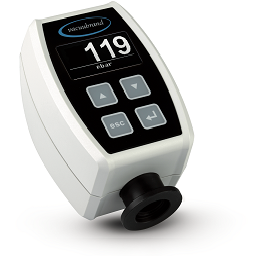 Modern vacuum gauges in laboratory must meet high requirements regarding chemistry resistance and rough working conditions.
Vacuubrand vacuum gauges offer a technically and economically perfect solution for almost every application in the laboratory. Beside the standard gauges for rough and fine vacuum, Vacuubrand offers with the VACUU·VIEW extended a vacuum gauge with an extended measuring range (1100 to 10-3 mbar). The product range is completed by a high-vacuum measuring device (down to 10-9 mbar)
All gauges are optimized for use in chemistry and offer high long-term stability and accuracy. For the measuring range from atmospheric pressure down to 0.1 mbar chemically resistant ceramic diaphragm vacuum sensors are used, which determine the pressure independent of the gas type. In the range from 5 mbar to 10 -3 mbar, ceramic-jacketed Pirani sensors are used.
Depending on the application, mains- or battery-powered measuring gauges can be used. For vacuum monitoring in process engineering applications, measuring instruments with ATEX approval are available.
Vacuum networks make it possible to supply several different applications with one vacuum pump. This is a money and space saving solution when a lot of users are working with vacuum in one laboratory and avoids the numerous drawbacks of a central vacuum supply.
Versatile and easily upgradable vacuum modules are available for a variety of workplace outlets. All of the components are available for new laboratories, existing and renovated laboratories. The modules are very resistant to chemicals, and have built-in check valves to ensure that adjacent applications do not contaminate or interfere with one another.
Name
Base pump
Ultimate vacuum
with gas ballast closed (mbar)
Ultimate vacuum
with gas ballast open (mbar)
Pumping
in
speed m3/h
Chemical resistance
Atex category 2
Atex category 3
internal Atm. only
AK
EK
SYNCHRO
Manual Control
2-point control
VARIO control
Controller
VACUU SELECT
50 Hz
60 Hz
Chemistry diaphragm pump
ME 1C
-
100
-
0.7
0.85
✓
-
✓
-
-
-
-
-
-
-
Chemistry diaphragm pump
ME 2C NT
-
70
-
2.1
2.4
✓
-
✓
-
-
-
-
-
-
-
Chemistry diaphragm pump
ME 4C NT
-
70
-
3.9
4.3
✓
-
✓
-
-
-
-
-
-
-
Chemistry vacuum system
ME 4C NT + 2AK
ME 4C NT
70
-
3.9
4.3
✓
-
✓
2
-
-
-
-
-
-
Chemistry diaphragm pump
ME 8C NT
-
70
-
7.1
7.8
✓
-
✓
-
-
-
-
-
-
-
Chemistry vacuum system
ME 8C NT + 2AK
ME 8C NT
70
-
7.1
7.8
✓
-
✓
2
-
-
-
-
-
-
Chemistry diaphragm pump
ME 16C NT
-
70
100
16.3
18.4
✓
-
✓
-
-
-
-
-
-
-
Chemistry vacuum system
ME 16C NT + EK
ME 16C NT
70
100
16.3
18.4
✓
-
✓
-
✓
-
-
-
-
-
VARIO chemistry pump
ME 16C VARIO select
-
70
100
20
20.0
✓
-
✓
-
-
-
-
-
✓
✓
VARIO chemistry pumping unit
PC 3016 VARIO select
ME 16C NT VARIO
70
100
20
20.0
✓
-
✓
✓
✓
-
-
-
✓
✓
Chemistry diaphragm pump
MZ 1C
-
12
20
0.75
0.9
✓
-
✓
-
-
-
-
-
-
-
Chemistry diaphragm pump
MZ 2C NT
-
7
12
2.0
2.3
✓
-
✓
-
-
-
-
-
-
-
Chemistry vacuum system
MZ 2C NT + 2AK
MZ 2C NT
7
12
2.0
2.3
✓
-
✓
2
-
-
-
-
-
-
Chemistry vacuum system
MZ 2C NT + AK + EK
MZ 2C NT
7
12
2.0
2.3
✓
-
✓
✓
✓
-
-
-
-
-
Chemistry vacuum system
MZ 2C NT +AK SYNCHRO + EK
MZ 2C NT
7
12
2.0
2.3
✓
-
✓
✓
✓
-
2
-
-
-
Chemistry vacuum system
MZ 2C NT + AK + M + D
MZ 2C NT
7
12
2.0
2.3
✓
-
✓
✓
-
-
✓
-
-
-
Chemistry pumping unit
PC 101 NT
MZ 2C NT
7
12
2.0
2.3
✓
-
✓
✓
✓
-
✓
-
-
-
Chemistry pumping unit
PC 510 select
MZ 2C NT
7
12
2.0
2.3
✓
-
✓
✓
✓
-
-
✓
-
✓
Chemistry pumping unit
PC 511 select
MZ 2C NT
7
12
2.0
2.3
✓
-
✓
✓
✓
-
✓
✓
-
✓
Chemistry pumping unit
PC 520 select
MZ 2C NT
7
12
2.0
2.3
✓
-
✓
✓
✓
-
-
✓
-
✓
VARIO chemistry diaphragm pump
MZ 2C VARIO select
-
7
12
2.8
2.8
✓
-
✓
-
-
-
-
-
✓
✓
VARIO chemistry pumping unit
PC 3002 VARIO select
MZ 2C NT VARIO
7
12
2.8
2.8
✓
-
✓
✓
✓
-
-
-
✓
✓
Chemistry diaphragm pump
MD 1C
-
2
4
1.3
1.5
✓
-
✓
-
-
-
-
-
-
-
Chemistry vacuum system
MD 1C + AK + EK
MD 1C
2
4
1.3
1.5
✓
-
✓
✓
✓
-
-
-
-
-
Chemistry pumping unit
PC 3001 basic
MD 1C VARIO-SP
2
4
2.0
2.0
✓
-
✓
-
-
-
-
-
✓
-
VARIO chemistry pumping unit
PC 3001 VARIO select
MD 1C VARIO-SP
2
4
2.0
2.0
✓
-
✓
✓
✓
-
-
-
✓
✓
VARIO chemistry pumping unit
PC 3001 VARIO select TE
MD 1C VARIO-SP
2
4
2.0
2.0
✓
-
✓
✓
✓
-
-
-
✓
✓
VARIO chemistry pumping unit
PC 3001 VARIO select EK Peltronic
MD 1C VARIO-SP
2
4
2.0
2.0
✓
-
✓
✓
✓
-
-
-
✓
✓
Chemistry diaphragm pump
MD 4C NT
-
1.5
3
3.4
3.8
✓
-
✓
-
-
-
-
-
-
-
Chemistry diaphragm pump
MD 4CRL NT
-
1.5
-
3.4
3.8
✓
-
✓
-
-
-
-
-
-
-
Chemistry vacuum system
MD 4C NT + 2AK
MD 4C NT
1.5
3
3.4
3.8
✓
-
✓
2
-
-
-
-
-
-
Chemistry vacuum system
MD 4C NT + AK + EK
MD 4C NT
1.5
3
3.4
3.8
✓
-
✓
✓
✓
-
-
-
-
-
Chemistry vacuum system
MD 4C NT + AK SYNCHRO + EK
MD 4C NT
1.5
3
3.4
3.8
✓
-
✓
✓
✓
-
2
-
-
-
Chemistry pumping unit PC 201 NT
MD 4C NT
1.5
3
3.4
3.8
✓
-
✓
✓
✓
-
✓
-
-
-
Chemistry pumping unit
PC 610 select
MD 4C NT
1.5
3
3.4
3.8
✓
-
✓
✓
✓
-
-
✓
-
✓
Chemistry pumping unit
PC 611 select
MD 4C NT
1.5
3
3.4
3.8
✓
-
✓
✓
✓
-
✓
✓
-
✓
Chemistry pumping unit
PC 620 select
MD 4C NT
1.5
3
3.4
3.8
✓
-
✓
✓
✓
-
-
✓
-
✓
VARIO chemistry diaphragm pump
MD 4C VARIO select
-
1.5
3
4.6
4.6
✓
-
✓
-
-
-
-
-
✓
✓
VARIO chemistry pumping unit
PC 3004 VARIO select
MD 4C NT VARIO
1.5
3
4.6
4.6
✓
-
✓
✓
✓
-
-
-
✓
✓
Chemistry diaphragm pump
MD 12C NT
-
2
4
12.0
13.3
✓
-
✓
-
-
-
-
-
-
-
Chemistry vacuum system
MD 12C NT + EK
MD 12C NT
2
4
12.0
13.3
✓
-
✓
-
✓
-
-
-
-
-
Chemistry vacuum system
MD 12C NT + AK + EK
MD 12C NT
2
4
12.0
13.3
✓
-
✓
✓
✓
-
-
-
-
-
VARIO chemistry pump
MD 12C VARIO select
-
1.5
3
15
15
✓
-
✓
-
-
-
-
-
✓
✓
VARIO chemistry pumping unit
PC 3012 VARIO select
MD 12C VARIO
1.5
3
15
15
✓
-
✓
✓
✓
-
-
-
✓
✓
VARIO chemistry pumping unit
PC 3012 NT VARIO DUO
MD 12C NT VARIO
1.5
3
28
28
✓
-
✓
✓
✓
-
-
-
✓
-
VARIO chemistry pumping unit
PC 3003 VARIO select
MV 12C NT VARIO
0.6
1.5
2.8
2.8
✓
-
✓
✓
✓
-
-
-
✓
✓

MV 10C NT
-
0.9
1.5
9.5
10.7
✓
-
✓
-
-
-
-
-
-
-
Chemistry vacuum system
MV 10C NT + EK
MV 10C NT
0.9
1.5
9.5
10.7
✓
-
✓
-
✓
-
-
-
-
-
VARIO chemistry pump
MV 10C VARIO select
-
0.6
1.2
13
13
✓
-
✓
-
-
-
-
-
✓
✓
VARIO chemistry pump
PC 3010 VARIO select
MV 10C VARIO
0.6
1.2
13
13
✓
✓
✓
✓
✓
-
-
-
✓
-
Chemistry diaphragm pump
MZ 2C EX
-
12
18
1.9
-
✓
✓
-
-
-
-
-
-
-
-
Chemistry diaphragm pump
MD 4C EX
-
3
10
3.7
-
✓
✓
-
-
-
-
-
-
-
-
VARIO chemistry diaphragm pump
MD 4C EX VARIO
-
3
10
3.7
3.7
✓
✓
-
-
-
-
-
-
✓
-
Chemistry diaphragm pump
MV 10C EX
-
2
10
8.1
-
✓
✓
-
-
-
-
-
-
-
-
Chemistry diaphragm pump
MV 10C EX + AK + EK
-
2
10
8.1
-
✓
✓
-
-
-
-
-
-
-
-
Chemistry diaphragm pump
MV 10C EX VARIO
-
2
10
8.1
8.1
✓
✓
-
-
-
-
-
-
✓
-
Chemistry vacuum system
MZ 2C EX + AK + EK
MZ 2C EX
12
18
1.9
-
✓
✓
-
✓
✓
-
-
-
-
-
Chemistry vacuum system
MD 4C EX + AK + EK
MD 4C EX
3
10
3.7
-
✓
✓
-
✓
✓
-
-
-
-
-
VARIO chemistry vacuum system
MD 4C EX VARIO + AK + EK
MD 4C EX VARIO
3
10
3.7
3.7
✓
✓
-
✓
✓
-
-
-
✓
-
VARIO chemistry diaphragm pump
MV 10C EX VARIO + AK + EK
MV 10C EX VARIO
3
10
8.1
8.1
✓
✓
-
✓
✓
-
-
-
✓
-
Name
Base pump
Ultimate vacuum without gas ballast
Ultimate vacuum with gas ballast
Pumping speed in m3/h
Chemical resistance
Oil pump
Atex category 2
Atex category 3 internal Atm. only
Exhaust filter
Isolation valve
Coldd trap
EK
mbar
mbar
50 Hz
60 Hz
Rotary vane pump
RE 2.5
-
3 X 10^(-1)
8 X 10^(-1)
2.3
2.8
-
✓
-
-
-
-
-
-
Rotary vane pump
RZ 2.5
-
2 X 10^(-3)
1 X 10^(-2)
2.3
2.8
-
✓
-
-
-
-
-
-
Rotary vane pumping unit
PC 3 / RZ 2.5
RZ 2.5
2 X 10^(-3)
1 X 10^(-2)
2.3
2.8
-
✓
-
-
✓
✓
✓
-
Rotary vane pump
RE 6
-
1 X 10^(-1)
6 X 10^(-1)
5.7
6.8
-
✓
-
-
-
-
-
-
Rotary vane pump
RZ 6
-
2 X 10^(-3)
1 X 10^(-2)
5.7
6.8
-
✓
-
-
-
-
-
-
Rotary vane pumping unit
PC 3 / RZ 6
RZ 6
2 X 10^(-3)
1 X 10^(-2)
5.7
6.8
-
✓
-
-
✓
✓
✓
-
Rotary vane pump
RE 9
-
1 X 10^(-1)
6 X 10^(-1)
8.9
10.2
-
✓
-
-
-
-
-
-
Rotary vane pump
RZ 9
-
2 X 10^(-3)
1 X 10^(-2)
8.9
10.2
-
✓
-
-
-
-
-
-
Rotary vane pumping unit
PC 3 / RZ 9
RZ 9
2 X 10^(-3)
1 X 10^(-2)
8.9
10.2
-
✓
-
-
✓
✓
✓
-
Chemistry HYBRID pump
RC 6
-
2 X 10^(-3)
1 X 10^(-2)
5.9
6.9
✓
✓
-
-
✓
-
-
-
Chemistry pumping unit
PC 8 / RC 6
RC 6
2 X 10^(-3)
1 X 10^(-2)
5.9
6.9
✓
✓
-
-
✓
-
-
✓
| Name | Vacuum controller | Battery-powered | Atex category 2 | Atex category 3 internal atm. Only | Chemical resistance | Lower measuring limit in mbar | Measuring principle diaphragm (Capacitive) | Measuring principle heat production (Pirani) | Measuring principle cold cathode | Measurement gas type independent |
| --- | --- | --- | --- | --- | --- | --- | --- | --- | --- | --- |
| Vacuum gauge VACUU VIEW | - | - | - | ✓ | ✓ | 0.1 | ✓ | - | - | ✓ |
| Vacuum gauge VACUU VIEW extended | - | - | - | - | ✓ | 1 X 10-3 | ✓ | ✓ | - | Ja (> 5 mbar) |
| Vacuum gauge DVR 2pro | - | ✓ | - | - | ✓ | 1 | ✓ | - | - | ✓ |
| Vacuum gauge DVR 3 | - | ✓ | ✓ | - | ✓ | 1 | ✓ | - | - | ✓ |
| Vacuum gauge Set DCP 3000 + MPT | - | - | - | - | - | 5 X 10-9 | - | ✓ | ✓ | - |
| Name | Vacuum controller | Battery-powered | Atex category 2 | Atex category 3 internal atm. only | Chemical resistance | Lower measuring limit mbar | Measuring principle diaphragm (Capacitive) | Measuring principle heat production (Pirani) | Measuring principle cold cathode | Measurement gas type independent |
| --- | --- | --- | --- | --- | --- | --- | --- | --- | --- | --- |
| Vacuum controller VACUU SELECT | ✓ | - | - | ✓ | ✓ | 0.1 | ✓ | - | - | ✓ |
| Complete controller benchtop device VACUU SELECT | ✓ | - | - | ✓ | ✓ | 0.1 | ✓ | - | - | ✓ |
| Complete controller for scaffold mounting VACUU SELECT | ✓ | - | - | ✓ | ✓ | 0.1 | ✓ | - | - | ✓ |
| Complete controller built-in version VACUU SELECT | ✓ | - | - | ✓ | ✓ | 0.1 | ✓ | - | - | ✓ |
| Package fine vacuum control VACUU SELECT + VACUU VIEW extended, KF DN 16 | ✓ | - | - | ✓ | ✓ | 1 X 10-3 | ✓ | ✓ | - | - |
| Package fine vacuum control VACUU SELECT + VACUU VIEW extended, KF DN 25 | ✓ | - | - | ✓ | ✓ | 1 X 10-3 | ✓ | ✓ | - | - |
| Package fine vacuum control VACUU SELECT + VSP 3000, KF DN 16 | ✓ | - | - | - | ✓ | 1 X 10-3 | - | ✓ | - | - |
| Package fine vacuum control VACUU SELECT + VSP 3000, KF DN 25 | ✓ | - | - | - | ✓ | 1 X 10-3 | - | ✓ | - | - |