Explore the integrated features that give you a user-friendly, efficient, and high performance system for your chemical process
Ring Baffle - a performance driver
A well-performing reactor lets you achieve high yield and save energy and the time that you spend on your process. Ring Baffle helps you to achieve this.
Ring Baffle is a unique feature available only from AGI. It is a series of ridge-like structures in the thermal wall of the reactor vessel which direct the flow of thermal transfer fluid uniformly around the process vessel.
The uniform flow and local turbulence produced by Ring Baffle enhances the thermal exchange between the wall and process. This effect is not possible in vessels that don't have Ring Baffle.
This video shows the flow pattern of a black dye in thermal jacket with and without ring baffle. Ring baffle distributes the dye more evenly compared to the vessel without the ring baffle.
High performing reaction vessels
Vessels are a core component of a reaction system. AGI glass vessels are available with a double wall (thermal) jacket or triple wall (thermal and vacuum) jacket. Both types are available with or without Ring Baffle. All vessels made by AGI have thermal jackets up to full working volume.
Optimized for excellent heat transfer

The inner vessel wall thickness is optimised using AGI's propriety resizing method. The benefits of this are :

Improved thermal exchange
Reduction of energy expenditure
Improved process temperature control
Designed for scale-up

The geometry of our small vessels is consistent with our larger vessels and other glass-lined industrial reactors. The R&D activities performed using small vessels can provide data for preliminary scale-up processes. The benefits of this modality are :

Flow dynamics consistent across vessel volumes
Meaningful extrapolation of process data for calculating scale-up resource requirement
High thermal shock resistence

Our double and triple wall vessels have the best thermal shock resistance (ΔT) for glass reactors available on the market. This allows for versatility in your process and marks the performance factor of our vessels.

ΔT for double wall vessels: 110 °C
ΔT for triple wall vessels: 60 °C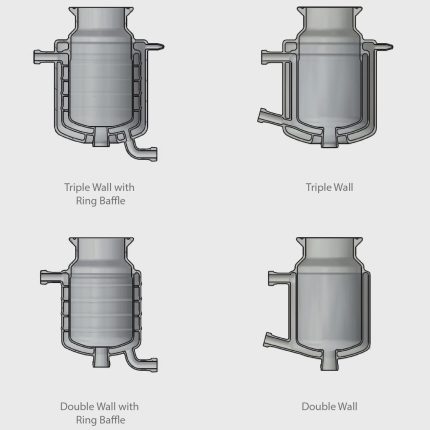 Removable leak-proof flush valve
AGI reaction vessels have unique removable flush valves. These flush valves have spring loaded PTFE stems that form a tight seal with minimal torque, and are easy to install and remove using a screw cap. Upon sealing, the spring in the shaft is active and maintains the sealing at various temperatures.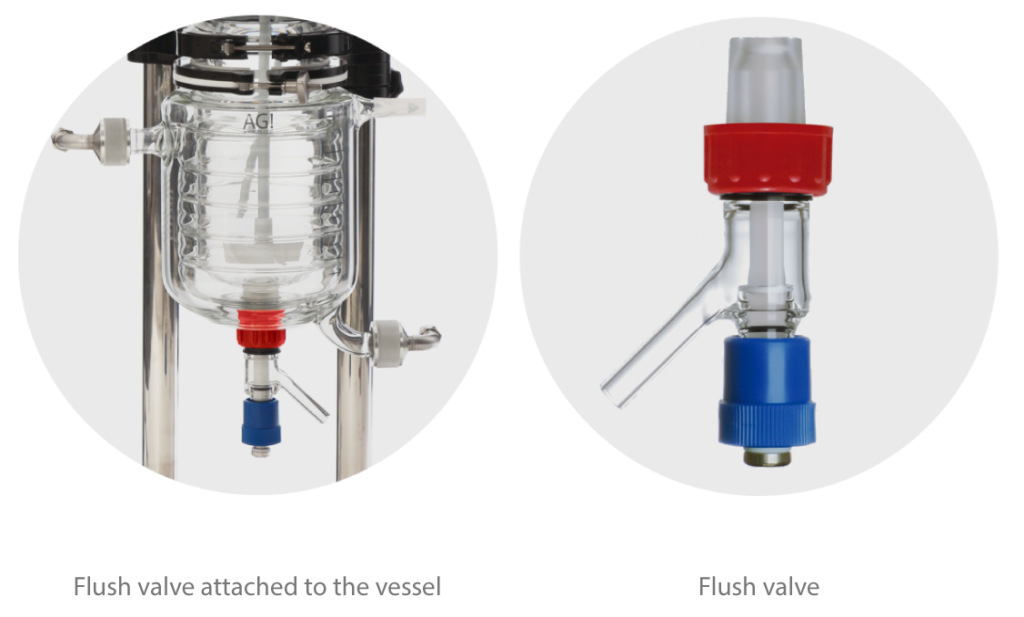 Wetted parts: Borosilicate 3.3, PTFE & Perfluoro elastomer (FFKM) Glass and PEEK shafts are available on request
Interchangeable reaction vessels
Reaction vessel volumes from 300 mL to 5 L can be easily interchanged in the same support structure*.

*DN 100 vessels 300 mL to 2 L require DN 100 clamp
*DN 150 vessel 3 L and 5 L require DN 150 clamp
*Custom 3 L and 5 L DN 100 vessels are available on request
Vessel arm swing mechanism improves user experience in many ways, including :
Demo of vessel arm swing mechanism
Stable and debris-free stirring
Newly designed AGI stirrer bearings have an extended configuration with glass and PEEK sliding parts. 

Stable stirring

The stirrer bearing design reduces axial deviation of impeller at high RPM, resulting in stable, wobble-free stirring.
Debris-free stirring

Even with prolonged operation, AGI stirrer bearings are highly resistant to PTFE flaking (from the stirrer shaft) compared with other conventional bearings that are available on the market.
The perfect alignment of a flush valve and its PTFE shaft with the drain port of the reaction vessel provides a seamlessly continuous surface that leaves zero dead space. This way, no stagnation occurs in the vessel and everything is in movement during agitation.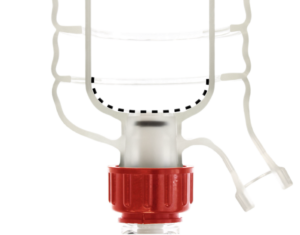 Mass flow pattern is an important factor to consider when you want to achieve a perfect chemical reaction process. We offer three types of impellers with axial or tangential flows. AGI impellers are made of SS rods encapsulated in PTFE for excellent chemical resistance and mechanical strength. If your application requires a special flow, see our advanced impeller options. If you find these are not sufficient, please contact us and we can help you to find a solution that suits your specific process.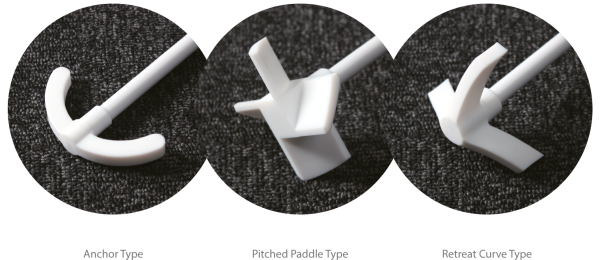 Vessel, DN 100 (300 mL to 2 L), DN 150 (3 L, 5 L)

Dimroth Condenser, TS24/40, TS15/25

Glass Cover, DN 100 (300 mL to 2 L), DN 150 (3 L, 5 L)
6 Ports (SQG29/42 x1, TS24/40 x4, TS29/42 x1)

Stopper for Additional Hole, TS24/40

Stopper for Hand Hole, TS29/42

Vent Adapter, TS15/25

Flush Valve with PTFE Shaft, SQG-29/42*

Dropping Funnel with Stopper, Graduated, TS24/40

PTFE Stirrer Guide, Glass Ball Bearing, SQG29/42, Shaft OD:10 mm

O-ring, FKM*

PTFE Stirrer Shaft, Shaft OD: 10 mm

Temperature Sensor Probe, OD:8mm, L:660 mm

Temperature Probe Holder, PTFE, TS24/40, Probe OD:8 mm

Quick Release Clamp, DN 100 (300 mL to 2 L), DN 150 (3 L, 5 L)

Metal Adapter for HTF, Screw Coupling, M16

Motor Support**

Support Structure

Swinging Clamp
* All O-rings are consumable parts
**Overhead stirrer motor is not included