Accelerated filtration and drying in all glass design
AGI Filter Dryer is designed for solid-liquid separation and drying applications. Pressures of up to 2 barG can be applied in the vessel, which helps to accelerate filtration and reduce solvent evaporation at elevated temperatures. The filter dryer integrated in the in filter serves as an extra heat source for accelerated drying of product.
Manual agitation using a flat blade allows gentle slurry mixing, dissolution, cake smoothing and free flowing powder formation. Benchtop Nutsche Filter offers a convenient method for solid-liquid separation and subsequent drying with a high degree of containment and material safety.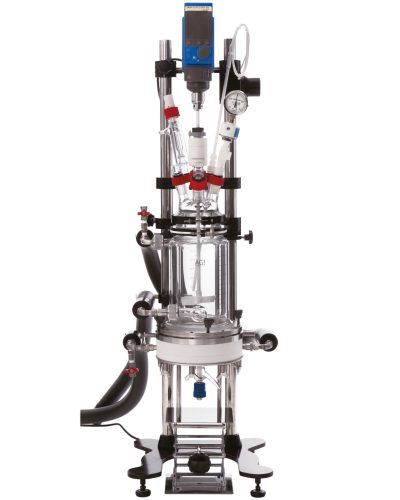 Why should you choose AGI Filter Dryer?
AGI Filter Dryer is designed to accommodate all steps of the solid-liquid separation process including drying. It offers material safety and prevents cross-contamination during material processing.

Pressurised filtration up to 2 bar G

Full jacket design for maximised thermal transfer

Accelerated cake drying via filter dryer

Integrated pressure relief and shield for safety

All glass design for continuous process visibility

Removable filter and flush valve for easy cleaning

Wide process temperature range -90 ℃ to +200 ℃

Vessel tilt function for easy product recovery
Vessel capacity
1 L, 2 L, 3 L and 5 L
Vessel type
Double wall (full jacket)
Filtration area
78.5 cm² (1 L & 2 L)
176.7 cm² (3 L & 5 L)
Operating pressure
Full vacuum to +2 barG (+0.2 MPa)
Operating jacket pressure
Up to +0.5 barG (+0.05 MPa)
Operating temperature
-90 °C to +200 °C
ΔT – Thermal shock resistance
110 °C (double wall)