All-in-one customizable reactor
AGI Universal Reactor is a very versatile system with a variety of features that meets the needs of most reaction processes including distillation, phase separation and dosing. We pour our knowledge and experience into its construction, resulting in a multifunctional chemical processing system that offers excellent value. Each system is built to order and so can be totally configured to meet your specific process needs.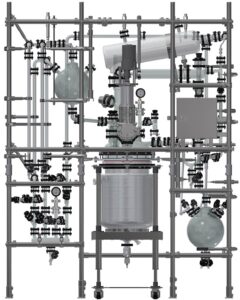 Why should you choose AGI Universal Reactor ?
All of the best features of our reaction systems are present in our Universal Reactor, which means it offers excellent performance and functionality. A variety of features can also be tailored to suit your specific process requirements.
We integrated our knowledge into a system that offers the following advantages :

Multipurpose reactor with various customisable functionalities

Vessel capacity up to 100 L Triple wall with Ring Baffles

Easy to set up and run reactions
Robust AGI Mechanical seal for heavy duty performance

Suitable for continuous industrial processes

Complete engineering, on-site installation and troubleshooting support around the world