Pressure, performance, and safety
AGI Pressure Reactor can withstand up to 10 barG pressure in an all-glass vessel design. Every glass reactor is pressure tested and has a protective covering for maximal safety. There is a unique removable glass shaft in the flush valve for easy cleaning, and the reactor lid has 8 ports to accommodate various accessories. The magnetic stirrer seal provides protection against pressure leakage and is made of SS316 (Option: Hastelloy®) for excellent corrosion resistance.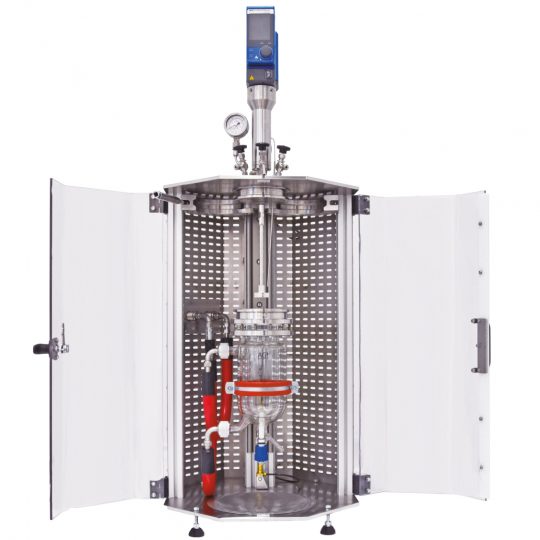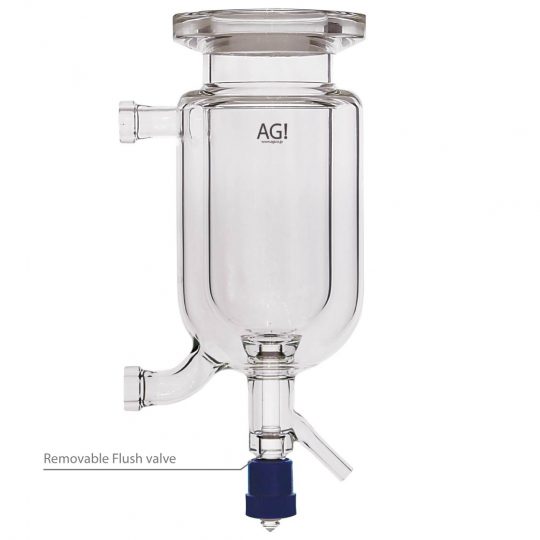 The Pressure Reactor is a Gold Label Product.

Why should you choose AGI Pressure Reactor ?
AGI Pressure Reactor is designed by experts to provide users with excellent pressure control, performance, and safety. We have extensive experience in scientific glass fabrication and in providing solutions for a wide variety of chemical processing industries.
We integrated our knowledge into a system that offers the following advantages :


Flush valve with removable glass shaft

Optimum safety with protective cage and individual pressure testing

All glass body that allows visual monitoring of processes

Wide process temperature range; -90 °C to +200 °C (300 °C as option)

Made of corrosion resistant materials (SS316 or Hastelloy® as option)
| | |
| --- | --- |
| Vessel capacity | 500 mL, 1 L and 1.5 L |
| Vessel type | Double wall DN80 |
| Operating pressure | Full vacuum to +10 barG (1 MPa) |
| Operating jacket pressure | Up to +0.5 barG (0.05 MPa) |
| Operating temperature | -90 °C to +200 °C |
| ΔT – Thermal shock resistance | 60 °C (double wall) |

AGI has partnered with Mettler Toledo to provide you with a fully automated pressure reactor using an RX-10 reaction control unit. RX-10 provides you with superior control over reactions compared to other automation systems. We offer a complete set up that allows you to capture and report all of your process data in one place using an intuitive touch screen interface.