LAUDA expands its successful range of integral process thermostats with a pressure-blanketed variant
Lauda-Königshofen, 24th February 2021
LAUDA, the world market leader for constant temperature equipment and systems, is expanding its successful range of integral process thermostats with new models. LAUDA has rounded off its portfolio for demanding temperature control tasks with two devices of the new, pressure-blanketed Integral P variant and a new, high-performance device of the T variant, and will also offer models with NRTL certification for the North American market in future. The new products are accompanied by the MID 80 through-flow control unit, which enables reproducible test processes.
LAUDA Integral P : Using pressure to achieve the perfect temperature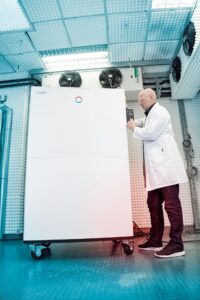 The two device types, Integral IN 2050 PW and IN 2560 PW, function according to the pressure blanketing principle. The devices, which are equipped with a stainless steel pressure vessel, significantly expand the temperature range of non-flammable heat carriers. For example, the upper temperature limit of water/glycol mixtures, which are commonly used in tests in the automotive industry, can be increased from 90°C to 140°C. Consequently, the new Integral P process thermostats enable testing of drive systems or stress tests under realistic conditions at low operating costs. In the pressure blanketing process, the compressed air supply is used to fill the device with negative pressure, which sucks the temperature control medium into the device with a vacuum of -0.2 bar. Integral P process thermostats can be used within a working temperature range from -40°C to 140°C with a cooling capacity of 20 kW and 25 kW, respectively. The devices are ideal for use in test stations for the testing of electric motors or batteries in the electric mobility sector.
New model in the Integral T product line meets demand for even more powerful temperature control
In response to high demand for powerful temperature control in the pharmaceutical industry, LAUDA is expanding its product line of Integral T process thermostats with the IN 1830 TW, offering 19 kW cooling capacity. The process thermostat is aimed at users who need professional temperature control with a working temperature range from -30°C to 150°C. Thanks to their open hydraulic system, LAUDA Integral T process thermostats are ideal for temperature control processes with frequent changes in the consumer or test object. The new generation of devices features a modular interface concept and ensures maximum connectivity of user processes.
With the MID 80 through-flow control unit, LAUDA has taken an important step from pure temperature control to efficient energy management. A magnetic-inductive flow meter measures the flow rate of the temperature control medium within the application. The temperature difference between the inlet and the outlet is used to accurately determine the transferred amounts of energy. The high-precision measuring unit enables accurate and reproducible results, which are indispensable in battery tests, as used in the electric mobility industry. In order to achieve a high level of quality in production, validated test processes in this field use a defined flow rate.