Compact circulation thermostats for professional temperature control thermostating from -90 to 250 °C
LAUDA PRO is the cutting-edge product line with an outstanding overall concept: Brand new from LAUDA are the circulation thermostats for external use, with small, active liquid volumes for quick temperature changes. The innovative Base or Command Touch operating units can be detached and used as a remote control. The low temperature thermostats come equipped with hybrid cooling as standard, which allows for additional cooling of the refrigerating machine with water.
The PRO heating circulation thermostats are designed for external applications up to 250°C. The low filling volume permits rapid heating up in the connected application. The compact construction permits space-saving installation of the thermostats. An integrated cooling coil, fitted as standard, provides cooling. The PRO cooling circulation thermostats are ideal for external applications where rapid temperature changes are required. The cooling output of 0.6 and 0.8 kW, combined with a very low filling volume permit these rapid temperature changes.
The thermostats have a working temperature range of -40 to 200°C. All types are fitted with a pressure-suction pump. Hybrid cooling of the refrigerating machine permits cooling using ambient air or, in addition, using cooling water.

Working temperature min.
-90 °C

Working temperature max.
250 °C

Temperature stability
0.05 ± K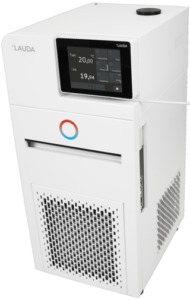 | | PRO RP 240 E | PRO RP 240 EC | PRO RP 245 E | PRO RP 245 EC | PRO RP 250 E | PRO RP 250 EC | PRO RP 290 E | PRO RP 290 EC | PRO P 2 E | PRO P 2 EC |
| --- | --- | --- | --- | --- | --- | --- | --- | --- | --- | --- |
| Working temperature min. | -40 °C | -40 °C | -45 °C | -45 °C | -50 °C | -50 °C | -90 °C | -90 °C | 80 °C | 80 °C |
| Working temperature max. | 200 °C | 200 °C | 200 °C | 200 °C | 200 °C | 200 °C | 200 °C | 200 °C | 250 °C | 250 °C |
| Temperature stability | 0.05 ± K | 0.05 ± K | 0.05 ± K | 0.05 ± K | 0.05 ± K | 0.05 ± K | 0.05 ± K | 0.05 ± K | 0.05 ± K | 0.05 ± K |
| Cooling output at 20 °C | 0.6 kW | 0.6 kW | 0.8 kW | 0.8 kW | 1.5 kW | 1.5 kW | 0.8 kW | 0.8 kW | --- | --- |
| Heater power max. | 2.5 kW | 2.5 kW | 2.5 kW | 2.5 kW | 2.5 kW | 2.5 kW | 2.5 kW | 2.5 kW | 2.5 kW | 2.5 kW |
| Interfaces integrated | Ethernet, USB (Type B) | Ethernet, USB (Type B) | Ethernet, USB (Type B) | Ethernet, USB (Type B) | Ethernet, USB (Type B) | Ethernet, USB (Type B) | Ethernet, USB (Type B) | Ethernet, USB (Type B) | Ethernet, USB (Type B) | Ethernet, USB (Type B) |