Heating thermostats from 20 to 200 °C for economic temperature control thermostating in the lab
The ECO thermostats come in silver (LCD display) or gold (color TFT display) models, equipped with a mini USB interface as standard. The circulation pump can be adjusted to six levels. The ECO heating thermostat line encompasses transparent baths up to 100 °C as well as immersion thermostats and heating thermostats with stainless steel bath up to 200 °C.
The bath thermostats come equipped with a cooling coil as standard. The E 4 is also equipped with a bath cover and pump connections for external application connections. A drain tap on the back side of the device makes changing the heat transfer liquid in the stainless steel baths easy and safe.

Working temperature min.
25 °C

Working temperature max.
100 °C

Temperature stability
0.05 ± K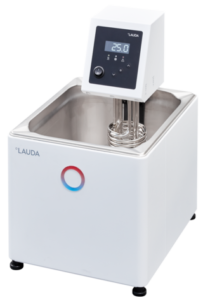 POWERVAP® - 6
POWERVAP® - 10/20
POWERVAP® - 50
POWERVAP® - 100
Process control of the fully automated distillation
✓
✓
✓
✓
Rotating flasks
6 l
10, 20 l
50 l
100 l
Distillation performance of water at a heating bath temperature of 60°C
approx. 2 l/h
approx. 4.5 l/h (20 l rotating flask)
approx. 6.5 l/h
approx. 8.5 l/h
Average distillation performance per day at fully automated distillation (heating bath temperature of 60°C)
Methanol approx. 115 l Dichloromethane approx. 230 l
Methanol approx. 260 l Dichloromethane approx. 530 l
Methanol approx. 360 l Dichloromethane approx. 750 l
Methanol approx. 460 l Dichloromethane approx. 960 l
Dimensions of rotary evaporator (LxWxH) with trolley (option)
approx. 115x75x195 cm
approx. 135x85x215 cm
approx. 150x90x225 cm
approx. 175x100x230 cm
Dimensions Process controller (LxWxH) with trolley (option)
approx. 50x75x145 cm
approx. 50x75x145 cm
approx. 50x75x145 cm
approx. 50x75x145 cm
Final vacuum
0.1 hPa
0.1 hPa
0.1 hPa
0.1 hPa
Leakage rate
< 5 hPa/h
< 0.1 hPa/h (Option, computer-controlled sealing system STACONSEAL)
< 5 hPa/h
< 0.1 hPa/h (Option, computer-controlled sealing system STACONSEAL)
< 5 hPa/h
< 0.1 hPa/h (Option, computer-controlled sealing system STACONSEAL)
< 5 hPa/h
< 0.1 hPa/h (Option, computer-controlled sealing system STACONSEAL)
EEx execution according to ATEX
✓
✓
✓
✓